Da Bum's Blogging Commandments
I have been taking a lot of heat lately for starting a blog. You see, I have been sort of the anti-blog for some time. But I have come to believe that some good can come from blogging. As long as a few rules are adhered to:
1. Thou shall not post more than three times a week.
If you're posting more than that, then you are spending too much time at your computer and need to get some fresh air. Besides, if you're that good, then why aren't you a syndicated writer for the AP?
2. Thou shall not tell useless details of your life.
Nobody cares about the sandwich you had for lunch, or what your dog got into this morning, or what you watched on tv last night. Talk about something meaningful, intriguing, and hopefully insulting.
3. State your opinion, not what's politically correct.
You're not applying for a job, or making a speech to the NAACP. Say what you feel and don't worry about what other people think. If somebody thinks you're wrong, it's their right to ignore you or enlighten you on their perspective.
That's a start. If I come up with any more, I'll let you know.
P.S. I'll be out of commission for a few weeks while I'm on the road collecting bottles and cans. Next update: April 24. See ya then.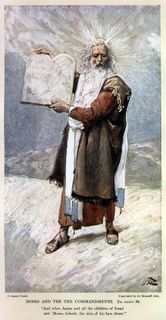 "Why are these pages stuck together?"